Subscribe today to the December box, dispatched a little earlier than usual on the 10th December.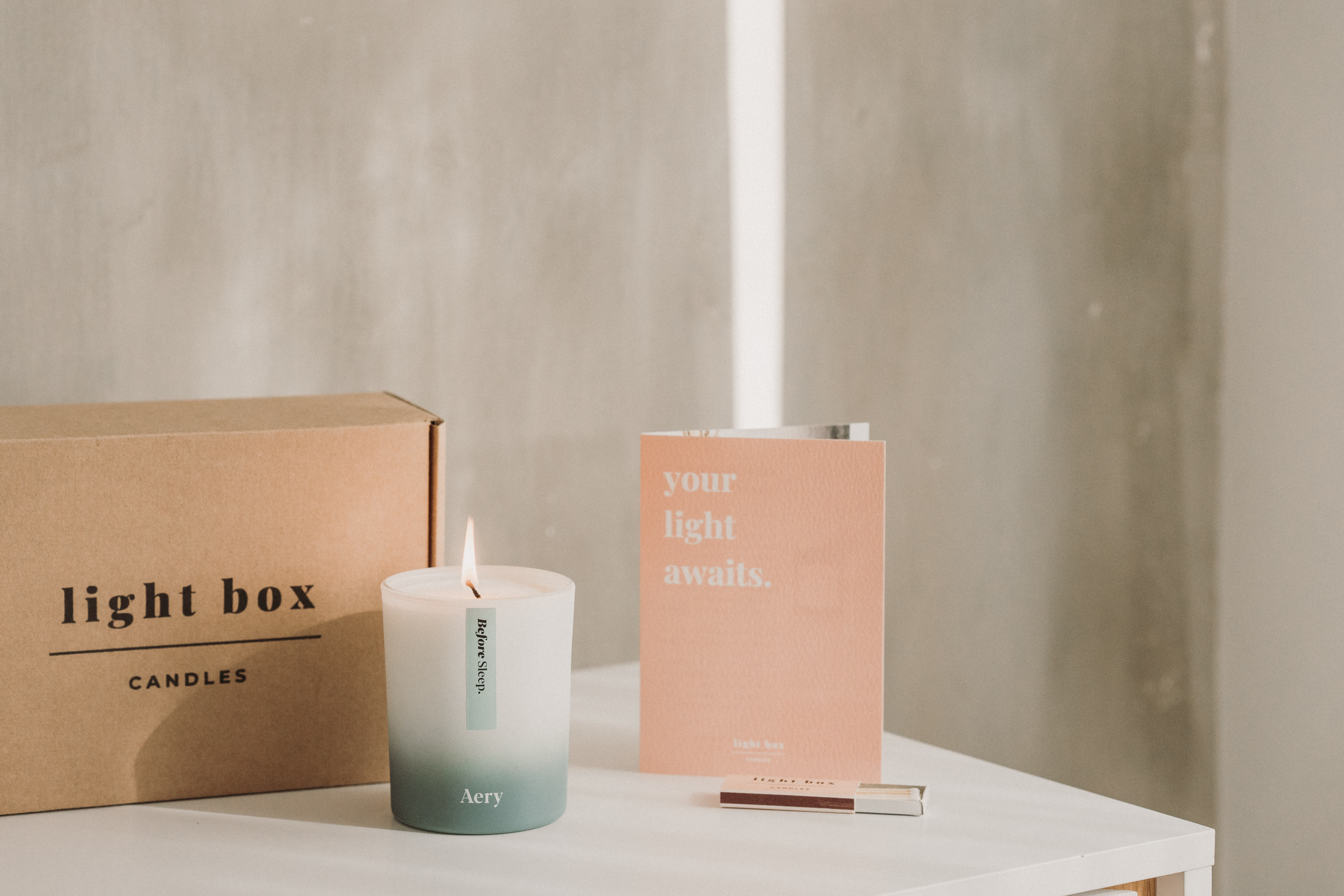 1 x featured natural candle of the month*
30 - 50 hours of candle burn time
1 x light box matches
'about the candle maker' card
surprise little extra treat on the side
 free delivery + cancel at any time
£19.99 / monthly
You are subscribing to the December box. Your first payment will be taken when you subscribe and your next renewal date will be the 1st January.
*if you have any allergies or are pregnant then we strongly advise you check the ingredients before lighting your candle. 
how does a subscription work?

 
we like to keep things simple.
we feature natural
artisan candles
Every month we feature one of the UK's finest hand poured candles, personally tested by us. Each artisan candle is natural, sustainable and made by makers who truly put wellbeing at the heart of what they do.
Simply hit 'subscribe today' and we will get to work with your light box order.
we deliver monthly
A monthly rolling subscription will automatically renew on the 1st of every month, after your first payment which will be taken on the day you sign up. You are free to change or cancel your subscription at any time by logging into your account.
If you do decide to cancel, you have until the 1st of each month. Cancelling on or any date after will mean you are charged and the month's box will be sent to you. Your subscription will then end the next month.
The 14th of each month is our cut off date to start a subscription for the month and we will ship all our light boxes out on the 16th, or the next working day. If you subscribe after the 14th your box will be shipped the following month. Please note we will be sending the December box little earlier than usual on Friday 10th December.
you keep discovering
Find natural artisan candles that you love and help you to feel good with a different fragrance each month. We won't reveal which candle we send until you receive it so it will be a surprise to unpackage. 
We hope with each light box you receive we can inspire a little bit of simple self care. 
take a look at
last month's featured candle
Comforting notes of cinnamon, nutmeg and cardamom blend with ripe orange and pumpkin to create this classic memorable scent. In the October box we feature Den Perfect and the 'Spiced Pumpkin' candle.
RRP £22.95 | burn time 65 hours | soy wax
why light box candles?




choose light.
good for you
We do our research to find the finest artisan candles, expertly blended using natural ingredients such as soy wax, essential oils and paraben free fragrances. We feature candles with unique blends, which are beautifully scented and good for you.  
good for our planet
We believe in all things natural. That's why all featured candles are thoughtfully packed. Sustainable, eco friendly and made from materials that are reusable or compostable. Each light box we deliver is created using materials with as little impact as possible on our home planet. 
made for you to feel good
We find the best makers who truly promote wellbeing. Who create candles to help us feel good, stir our senses and are passionate about aromatherapy benefits. Each month our light boxes feature a different candle which will hopefully inspire some simple self care and keep that inner light burning bright.